A Business Degree with a Global Perspective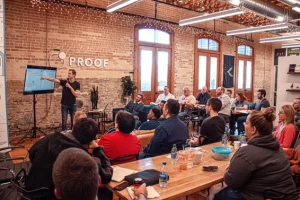 NIT offers a Bachelor of Arts degree in Business Administration with concentrations in Accounting, Computer Information Systems, International Business, and Marketing. This program educates students using a cross-functional, cross-cultural perspective to equip them with the intellectual tools they need to assume responsible positions in organizations and to develop them into well-rounded professionals and managers with a capacity for lifelong learning.
The program is designed to ensure that students develop an integrated body of knowledge in the business and management of modern organizations; a set of essential business and management skills including interpersonal leadership, communication, and teamwork skills; a broad capacity for learning, critical thinking, and problem solving; a deep appreciation for the role of culture in managing organizations and dealing with institutional constituents including customers, employees, and suppliers; an effective business and management style that incorporates ethical values, social responsibilities, and personal beliefs; and a global view of personal fulfillment and organizational achievement in the context of societal and cultural values.
Business Administration majors meet with a program advisor during or before their first semester to discuss their personal goals and aspirations. Based on this self-exploration, students select the concentration that will best prepare them to fulfill their personal and professional life mission. Students who attend full-time may earn their bachelor's degree in four years. Students attending part-time may expect a longer time to graduate.