Master of Business Administration
A Business Degree with a Global Perspective
The MBA program provides in-depth technical education in specialized fields and addresses issues of management in different cultural contexts and ethical aspects of decision making. This program prepares graduates for leadership positions in for-profit and nonprofit organizations.
The two-year MBA program pays particular attention to cultural diversity within an organization, as well as worldwide cultural differences, teaching students how to effectively and responsibly manage such differences. Students are educated in a friendly and caring learning community with small, interactive classes. Students acquire knowledge and skills while developing attitudes and values appropriate for leading and serving in a global society. The program builds on the university's strengths in cross-cultural studies and community service based on Buddhist values of excellence, self-cultivation, and responsibility. Every student receives workplace experience through a hands-on internship.
The curriculum emphasizes: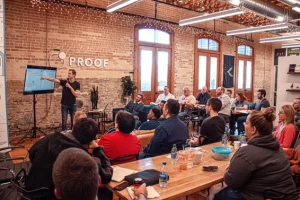 Cultural differences as reflected in management or problem-solving styles
Hands-on experience correlated to theoretical knowledge
Business ethics, including cause-effect analysis and responsibility toward self and society
MBA students meet with a program advisor during their first semester to discuss their personal goals and aspirations. Based on this self-exploration, students have the option of declaring a concentration in one of four areas: Computer Information Systems, Finance, International Business, and Nonprofit Organization Management.